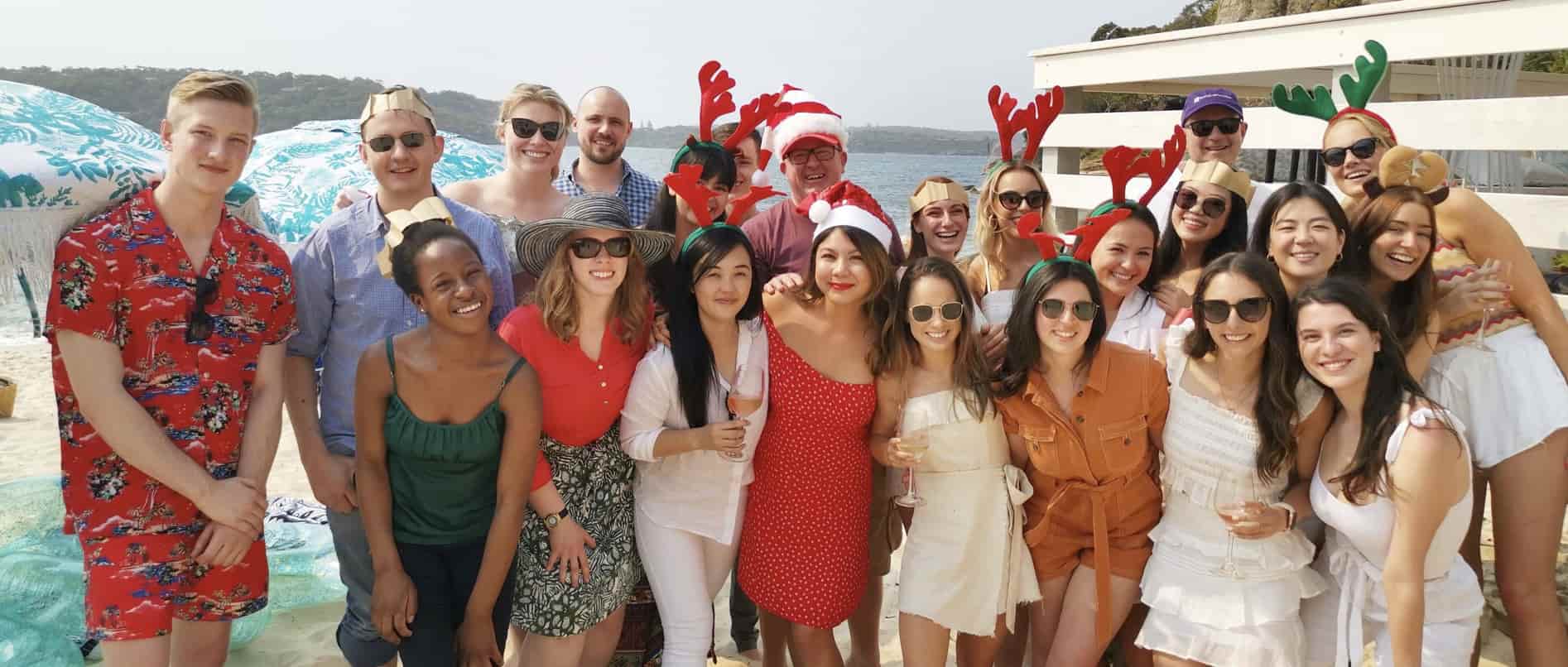 About us
Student Services Australia started in 1991. Our 12 full time staff are based in our office in Chippendale, Sydney, but we operate in every state in Australia.
Each year we employ over 250 fantastic student-staff across 33 campuses.
Student Services Australia runs:
Stats
Over 45% of uni students are current members of the StudentVIP community (550,000 students).
The StudentVIP message platform delivers over 1.6 million messages student-to-student each year.
Over 1 million students visit our websites. Over 400,000 have downloaded our apps.
A positive impact
Students save approximately $10 million/year in textbook purchases,
Top performing students earn over $2 million as StudentVIP Notes authors,
3,000 students earn extra money as private tutors, helping others get through tough subjects,
We don't know how many students made it to their first lecture on time thanks to Lost On Campus,
Or chose a better elective thanks to peer reviews on StudentVIP Subject Reviews.
2020 — Back to Uni Cash

Starting a semester can be expensive for a student, so we banded together with Student Super to run an annual Back to Uni Cash competition. 100 lucky winners won a share of $25,000.

2019 — Summer Jobs

Over 30% of students look for a Christmas casual job each year (NSS 2019 data). We launched Summer Jobs to help students get some extra cash and get extra experience to boost their CV!

2019 — Student Internships

Student Internships was revived! We relaunched the website on its own as we're noticing internships are still very integral part in shaping a student's career path and experience.

2019 — Jobs Near Me

Nobody likes wasting time on long commutes. So, we decided to launch a simple and free jobs website allowing Australians (not just students) find great jobs close to where they live!

2019 — High School Notes

With the successes of the uni subject notes market, we wanted to bridge the gap in the market to provide access for everyone to elite subject notes. But unfortunately, it was a lot more challenging than anticipated with overhaul of the syllabuses. We'd like to thank 205 student authors who contributed to our project and selling over 3,658 notes in a short period of time!

2016 — StudentVIP Events

Keep in the know of every event happening on campus - so members will never miss another free sausage sizzle or miss out on a ticket to the ball!

2015 — High School Tutors

Keep in the know of every event happening on campus - so members will never miss another free sausage sizzle or miss out on a ticket to the ball!

2014 — StudentVIP Notes

With the growing StudentVIP membership base, it made perfect sense to help students academically. StudentVIP Notes helps students take the stress out exam prep and become a better notetaker. Authors are all from previous students from the subject.

2014 — StudentVIP Tutors

In our focus groups, we discovered most high school students hire private tutors but not uni students. The answer was that it was too hard to find another peer who has just done the subject before. StudentVIP Tutors revolutionised uni education by creating a platform for uni peer-to-peer education.

2014 — StudentVIP Subjects

The first website in Australia to deliver a page for every subject at every Australian university. For users, it's extraordinarily targeted content by serving relevant textbooks, notes, tutors, reviews and ratings for the specific subject.

2014 — StudentVIP Flagship

Textbook Exchange was rebuilt under StudentVIP Textbooks with a new ISBN focused search, new textbooks and e-textbooks sold direct from publishers and moving all listing content outside of the login wall. Our biggest change was the launch of onsite messaging, which is simple but powerful for members returning to the site.

2013 — JoinForm

Gone are the days of a clipboard and pen for clubs and societies to sign up members during O-Week. We built them Join Form; a free, easy and fast online membership join form where they can sign up members, collect membership fees and have it fully customisable.

2012 — Lost On Campus

Lost On Campus is Australia's biggest campus mapping app with over 42 campuses and 36,000 locations, we vowed to help students to never be lost again. Students can search for every tutorial room, their nearest toilet, coffee shop and vending machine. But, the best thing is that 300 local students were involved in building the app! Available on IOS and Android.

2011 — National Student Survey

Moving decision making to "I think.." to "We know..". The launch of the NSS Marketing Insights Report which takes the pulse of the Australian university student community.

2011 — Student Internships

Why were students looking for internships when they were about the graduate? Because they were so incredibly hard to find! SI was Australia's best place to find internships, vacation employment and summer intern roles. It's on hiatus for now, but will be back under our flagship StudentVIP brand.

2010 — Textbooks Rebate

Payback is sweet. Textbook Rebate was a project led by StudentVIP and supported by a group of donors in the student community. The fund included $50,000 which was distributed to students as a rebate for purchasing new textbooks or course materials from an on-campus bookseller. We ran this project for 2 years.

2004 — StudentVIP Alerts

Alerts was designed to ensure students were the "first to know" about student related opportunities. Clients such as Commonwealth Bank, Microsoft, Australian Defence Force, Nike, ASOS, Univ. of Melbourne, Spotify and Google have used the channel to get the word out to our members about their latest student offerings.

2004 — Textbook Exchange

Textbook Exchange is our longest running service for students, and it's still Australia's biggest textbook market! At any given time, there are over 150,000 textbooks listed nationally, helping students buy cheap textbooks. In 2014, we rebranded to StudentVIP Textbooks.

2002 — Education Software

A time when software still existed on a CD, Education Software provided the lowest software deals for students and academics.

1996 — Magazines4Students

Just shy of a decade of service, Magazines4Students was the leading website for students, high schools and academics to subscribe to newspapers and magazines at an student rate.

1991 — Student Marketing Australia

Student Marketing employs over 200 terrific student staff across 30 campuses nationally working on campaigns including CommBank, Officeworks, ASOS, Australian Red Cross Blood.

1990 — Computers for Students programme

For almost a decade, the "Computers-for-students" program brought together Commonwealth Bank, Apple and 60 TAFE and universities around Australia to provide low cost computer finance for students. This kick started our expertise and long history in the sector.